offload your financial burden and functions to lth accounting with
managing your business finances are tough especially if you're a small business, nonprofit or solo entrepreneur. you're at maximum capacity and neither you or your team can take on another thing! that's where virtual cfo comes in. we'll handle all of the numbers.

Virtual CFO is for you if you're ready to…
Chief Financial Officers aren't only for big companies. You're a boss, Director, CEO who deserves the time and energy to work in your zone of genius and bring in more business. You can't do that if you're wearing the CFO hat,
A CFO is a must if you're ready to offboard your daily, monthly, and annual financial decisions and responsibilities to a capable and trusted professional.
You don't need a full-time CFO to get expert analysis into your company's finances. Virtual CFO services offer the same expertise and insights but without the added expenses associated with hiring a CFO full-time. You can eliminate expenses such as paying a salary, bonuses, benefits and even leasing office space by working with a virtual CFO.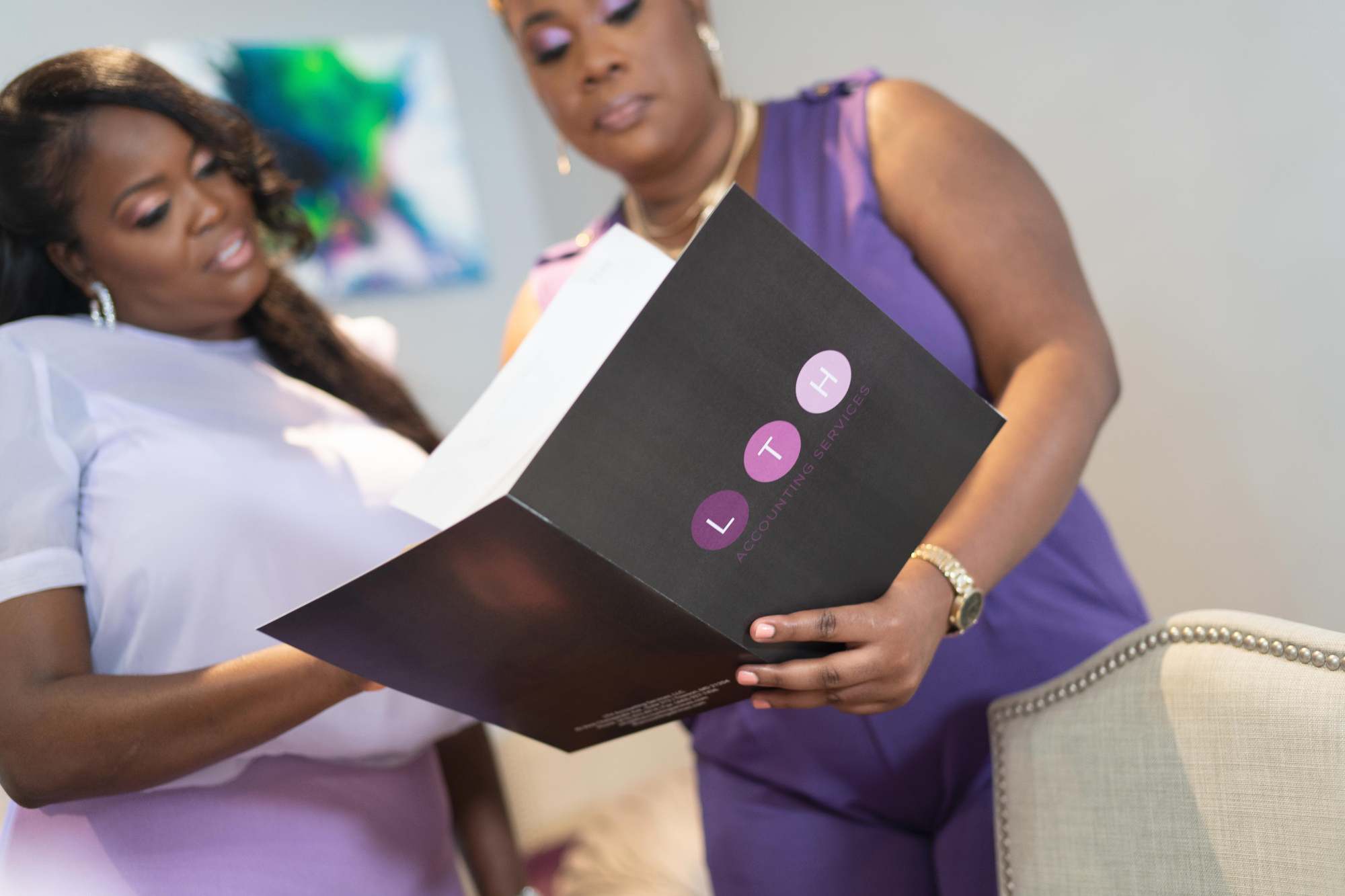 What you need is a reliable, trustworthy, educated accountant! When you hire LTH Accounting services, you've hired a firm that can not only navigate their way through any financial matter involving your personal taxes but also your business taxes! I highly recommend LaTasha Hibbert and LTH Accounting services for all of your accounting needs!
Details of the Virtual CFO
You don't have the bandwidth to manage all of the financial decisions in your company or nonprofit, and neither does your team. It's time to partner with a trusted CFO who'll take the reigns while you do the rest.
This plan is for you if you're ready to partner with a Chief Financial Officer to manage your daily accounting needs. Let us take care of the numbers while you focus on your clients, community, and customers.
bookkeeping
Eliminate tedious bank and credit card expenses review and tracking. We record your transactions on a weekly basis.
Budgeting & Projections
Forecasting your spending patterns is important to being open for opportunities or cutting back. We'll report your expected revenues, expenses, and cash flows, so you can make sound financial decisions.
invoices & payments
As your Virtual CFO, we'll handle your monthly vendor invoices and payments. Never be delinquent on your monthly vendor bills again!
reporting
Reports allow you to manage and understand your financial outlook. As your Virtual CFO, we'll provide key monthly reports.
data analysis
Stay steps ahead of tax season during our monthly financial discussions.
tax prep & planning
We'll take the load off of you by preparing your annual tax return and updating your data each week, so that you have the most up-to-date information at your fingertips.
+ add on: payroll processing
Upgrade your payroll systems from casual payment systems such as CashApp and Venmo. Enroll in our proprietary payroll system. We'll manage payroll the right way with proper tax deductions, annual filings, reliable pay frequency, etc. Let us take care of the numbers.
Offboard your tax and accounting functions to gain a peace of mind
and reclaim your time by enrolling in the Virtual CFO.
Thank you for considering LTH Accounting Services for all of your Tax and Accounting needs. 
To schedule your consult, please complete the form below to help us learn more about you and/or your business. Once you complete this form you'll be taken directly to your invoice to complete payment of $125. 
Your consult is not scheduled until payment has been made after submitting this form.
NOTE: Scheduling a consult is the required next step to working with LTH Accounting Services.
We look forward to meeting you!

40 West Chesapeake Ave., Suite 212
Towson, MD 21204
P
: (410) 823-4914
F
: (443) 927-7436
E
:
[email protected]